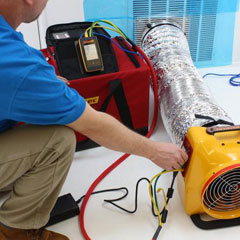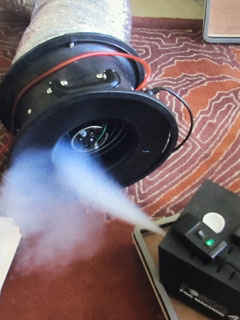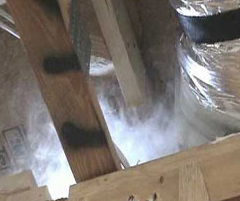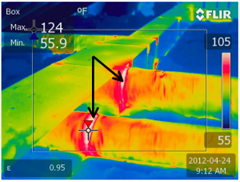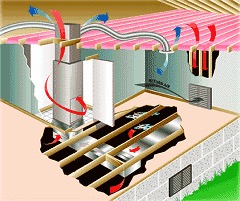 Duct Leakage Testing
Is There a Thief in Your Ductwork? – From: The Energy Conservatory
There are more than a million miles of duct work in U.S. homes and industry experts estimate that more than two-thirds of them are leaky enough to justify sealing or repair. Leaky ducts can significantly increase air conditioning and heating bills, dramatically reduce equipment capacity and performance, as well as result in potentially dangerous indoor air quality problems. In fact, duct leakage is responsible for many of the comfort complaints experienced by homeowners today.
Why Is Duct Leakage Important?
Leaks in forced air duct systems are now recognized as a major source of energy waste in both new and existing houses. Studies indicate that duct leakage can account for as much as 25% of total house energy loss, and in many cases has a greater impact on energy use than air infiltration through the building shell.
Just as important, duct leakage can prevent heating and cooling systems from doing their job properly, resulting in hot or cold rooms, and humidity problems. Worse yet, duct leaks can create air quality problems by pulling pollutants and irritants directly into the house.
Here are just a few of the problems resulting from duct leakage:

  Leaks in the supply ductwork cause expensive conditioned air to be dumped into the attic, crawlspace or garage instead of into the house.

  Return leaks pull outside air (hot in summer, cold in winter) into the duct system reducing both efficiency and capacity. In humid climates, moist air being drawn into return leaks can overwhelm the dehumidification capacity of air conditioning systems causing homes to feel clammy even when the air conditioner is running.

  Heat pumps are particularly susceptible to comfort complaints from duct leakage, especially during the heating season. Duct leaks can cause the air coming from heat pumps to feel luke-warm or even cold during the winter. In addition, leaky ductwork has been found to greatly increase the use of electric strip heaters in heat pumps during the heating season.

Leaks in return ductwork draw air into the house from crawlspaces, garages and attics bringing with it dust, mold spores, insulation fibers and other contaminants.

Household depressurization from duct leaks and imbalanced duct systems can cause spillage of combustion products (from furnaces, water heaters and fireplaces) into the house.
There are several ways to find duct leakage:

  Using a duct leakage tester and blower door together (the most common method)

  Using a flow hood

  Using a blower door and pressure pan (for diagnostic purposes only)

  Using a blower door only (not recommended)

  Use a calibrated fan to pressurize the duct system

  Measure the airflow through the fan with the duct system at pressure
Smoke Testing Ducts for Identification and Sealing of Observed Leaks
You expect the plumbing to be pressure checked prior to occupancy. Doesn't it make sense to have your duct systems smoke tested by a 3rd party before it becomes entombed? The cost of the test is minuscule compared to other energy savings measures and is the cheapest one-time "insurance policy" that your system will operate leak-free for the lifetime of the duct-work. Contact us for more information.
Final duct testing of the house after drywall and insulation is too late to access the leakages once entombed above drywall and insulation, leaving the homeowner with 20 to 30+ years of high cost air conditioning and heating lost into the attic or garage. A recent study by the Florida Solar Energy Center (FSEC) on 30 new construction houses revealed cooling losses of 10-20% in the duct-work alone. Extrapolating this into monthly costs based upon 10,15, and 20% yields immediate monthly savings.
To schedule Duct Testing or any other service, contact us!
---
How we can help...
We offer a wide range of services. Call us at (772) 263–3265 or click the "Service Request" button to complete our easy-to-use online form.
Service Request
---
I enjoyed working with Scott. He was knowledgeable and professional…everything I look for in a quality service person.
Janette Shearer
Comparing prices with Energy Raters Plus and other companies, I picked Energy Raters Plus. Scott won't disappoint you in terms of pricing, quality service, and professionalism.
Peter Bowen
Scott Brann and Energy Raters Plus have been great to deal with. I would highly recommend them!
Karen Delaney